Dark elves
Features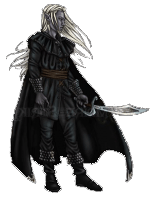 Night assault. By spending weapons the army attacks with a 1% to 6% bonus to damage, increases from 1% to 2% when conquering a city and from 1 to 3 points more in speed.
Harassment. 15% of successful attacks on cities provoke the harassment adversity. Dark elves can see on the page, when choosing targets, which cities are under harassment with a special icon. A dark elf attack on a city under harassment, increases the conquest/siege percentage by 4%.
Dark elves heroes are 25% more likely to learn a special ability when leveling up. They gain 10% more development points (when leveling up). They also have a -4% chance of being recruited if they are captured.
Espionage works 85% of the time. More than most races (except elves).
All cities generate 20% more Karma.
Cannot found cities in Desert, Plain, Coast and Lake. Likewise they cannot conquer cities in those terrains, instead they perform a plunder by which they obtain a large amount of gold and kill 30% of the population.
Trading costs more turns, 1 turn for every 28.000 in gold corresponding to the volume of buying and selling (The normal is 1 for every 40.000).
Population growth is 8% lower than normal. For this reason, select well the land where you are going to found with this race.
Their war rate never goes below 20% so they cannot benefit from the peaceful empires rule.
Troops

T.Ata indicates the type of attack. P-Piercing, C-Slashing, G-Strike, F-Fire, H-Ice, S-Gas, I-Psychic, R-Ray, D-Distance, M-Magic missiles. Attack and Def indicate a value that will influence in combat to hit or dodge an attack. Vel is the speed of that troop. Attacking before the adversary can avoid many casualties. Mor is the morale, which will prevent many troops from fleeing.