Orcs
Features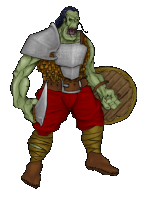 Orc Assault. Spending weapons the army attacks with a 2% to 12% bonus to damage, and from 1% to 2% to conquer a city.
Heroes need 50% less troops to motivate them. When motivating a hero, he uses all his power and abilities (see demotivation rule in the Hero section).
Heroes have a -4% to be recruited by another empire that has captured them.
Building Castle, Wall, Armory, Moat and Military barracks, cost half of resources and gold.
Troops

T.Ata indicates the type of attack. P-Piercing, C-Slashing, G-Strike, F-Fire, H-Ice, S-Gas, I-Psychic, R-Ray, D-Distance, M-Magic missiles. Attack and Def indicate a value that will influence in combat to hit or dodge an attack. Vel is the speed of that troop. Attacking before the adversary can avoid many casualties. Mor is the morale, which will prevent many troops from fleeing.