Humans
Features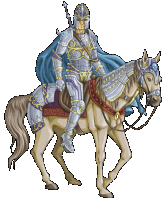 Trading costs less turns, at the rate of 1 turn per 100,000 of trading volume (Normal is 1 turn per 40,000 gold).
Cities produce double the amount of relics and jewels.
Heroes have a 2% (easier) to be recruited by another empire that has captured them.
Militia gain 30% damage when defending the city against enemy attacks.
Troops

T.Ata indicates the type of attack. P-Piercing, C-Slashing, G-Strike, F-Fire, H-Ice, S-Gas, I-Psychic, R-Ray, D-Distance, M-Magic missiles. Attack and Def indicate a value that will influence in combat to hit or dodge an attack. Vel is the speed of that troop. Attacking before the adversary can avoid many casualties. Mor is the morale, which will prevent many troops from fleeing.