Elves
Features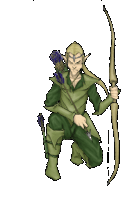 Bonus 10% in defense if they attack or are attacked in a city in Forest.
Automatic indicator of which cities have the most buildings when preparing an attack, represented with an icon of a building from smallest to largest next to each city (if you place the mouse pointer over the icon, you can know the exact number of buildings that city has).
Espionage always works at 100%. The rest of races usually fail some information about cities and heroes.
Heroes gain 10% development points when leveling up.
The exchange for special troops costs 150 fame points (the normal is 200).
Troops

T.Ata indicates the type of attack. P-Piercing, C-Slashing, G-Strike, F-Fire, H-Ice, S-Gas, I-Psychic, R-Ray, D-Distance, M-Magic missiles. Attack and Def indicate a value that will influence in combat to hit or dodge an attack. Vel is the speed of that troop. Attacking before the adversary can avoid many casualties. Mor is the morale, which will prevent many troops from fleeing.