Undead
Features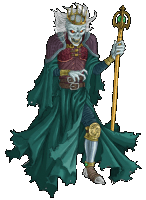 15% of successful attacks on enemy cities provoke the adversity Black Death, whereby the attacked city will produce nothing and lose population for the duration of the adversity.
Cities produce 20% more mana.
Cities with more than 50,000 population can exchange fame to open a Demonic Portal and attract a few (4 to 6) Soul Eaters of level 45. The option will not be available until the population is exceeded.
Heroes have a -3% chance to be recruited by another empire that has captured them.
Troops

T.Ata indicates the type of attack. P-Piercing, C-Slashing, G-Strike, F-Fire, H-Ice, S-Gas, I-Psychic, R-Ray, D-Distance, M-Magic missiles. Attack and Def indicate a value that will influence in combat to hit or dodge an attack. Vel is the speed of that troop. Attacking before the adversary can avoid many casualties. Mor is the morale, which will prevent many troops from fleeing.