Dwarfs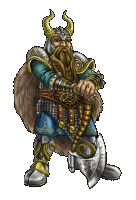 Characteristics
+5% bonus to damage and defense if attacking or being attacked in a city in Mountain.
Mines, deposits, wells, forges, workshop, monuments, quarry, aqueduct, walls and moat cost 1 turn instead of 2 to build.
Heroes have a -1% (i.e. more difficult) to be recruited by another empire, if they are captured.
They cannot have mage heroes. Likewise a dwarf empire cannot be affected by any global magic cast by wizards (mana). Like the others, they can produce and store mana (to raise points), but they cannot use it to cast magic.
Founding a clan costs -20% gold.
Troops

T.Ata indicates the type of attack. P-Piercing, C-Slashing, G-Strike, F-Fire, H-Ice, S-Gas, I-Psychic, R-Ray, D-Distance, M-Magic missiles. Attack and Def indicate a value that will influence in combat to hit or dodge an attack. Vel is the speed of that troop. Attacking before the adversary can avoid many casualties. Mor is the morale, which will prevent many troops from fleeing.